Rusutsu Resort Amusement Park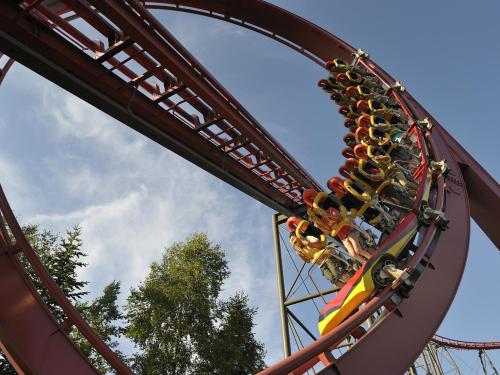 All attractions are conveniently located in the amusement park with plenty of thrills to keep everyone smiling. The amusement park can be easily accessed from the car park or hotels by a short walk. Alternatively why not jump on the road train or Glasgow Locomotive.
Operating Hours (29 April - 11 October 2020; 17-18 October 2020)
Ticket Price (During 4/29 - 7/22, 8/24 - 10/11 and 10/17-18, 2020)
Ticket Price (During Summer Holiday 7/23 - 8/23)
SEASON PASS 2020
Today's Operation Status for Attractions - 2019
Parking Fee
[Weekdays]
Free of charge
[Saturdays, Sundays, Public Holidays & following dates]
*April 29 - May 6, July 23 - August 23, September 19 - September 21, 2020
Regular car: JPY 500
Large vehicle (microbus +): JPY 1,000
Motorcycle: JPY 200
[In-house guests]
Free of charge
Notes
Height and age requirement apply to some of the attractions.
Senior rate applicable to 60 years and above, proof of age is required.
For disable guest, proof of eligibility is required.
Admission price covers all-you-can-ride attractions as well as access to the outdoor tennis court (2-hour court hire, equipment rental not included), Super Jumbo Pool (July 23 – August 23, 2020) and a Yotei Gondola Ticket (unlimited access).
Operation of attractions is subject to change or cancellation due to weather or other conditions.
Day visitors may use the indoor wave pool and the public bath, an entry fee of JPY 1,080 applies to each (consumption tax included) required for entry to the public bath area.
1 Day or Twilight Ticket holders can take full advantage of the extended operating hours until the closing time of night session.
One caretaker per disabled guest is entitled to the adult concession pricing as well.
Single ride coupon is not available.
Discount tickets cannot be used in conjunction with other discount tickets or other promotion.
Park Safety Policy
At Rusutsu Resort, we perform an hour-long system check each morning in accordance with the safety and operation manuals. As the park is closed during wintertime, attractions are periodically overhauled (disassembled for axle inspections, etc.). Flawed parts will be, regardless of their designated product life, replaced with the new ones. During operation, our staff closely monitors the sound, vibration and other factors that indicate performance and will immediately stop the attraction when anything abnormal is detected, the ride will not restart it until the problem is resolved.
We operate the park safely, not only under the legal and administrative guidelines, but also on the ground of corporate responsibility, so that our customers can enjoy it without worries or concerns. We look forward to having you visit us soon.
Gondola Safety Policy
Rusutsu Resort has Ggained approval from the Ministry of Land, Infrastructure and Transport to operate lift and gondola.
As stipulated by article 2.3 of safety control rules under Railway Business Act (revised in 2006), Rusutsu is subject to report all safety approaches of lift and gondola facilities. Although only West Gondola is in operation during green season, we will make every effort to maintain all lifts and gondolas in a proper and safe working condition.
Amusement Park Map
Download PDF(2017)
just for your reference
*Amusement Park Map 2020 will be uploaded soon.
Note for Drone Operations
This notice applies to all parties interested in operating drones on Rusutsu Resort property/within and around the resort area.
Please note drone operations are NOT permitted in/around the Rusutsu Resort Area. Regarding press/media parties, pre-approved permission from the resort management is required for all drone operations.
Thank you for your understanding.