Park Golf
Rental clubs and shoes are ready for casual play. Special prices offered to house guests or amusement park admission pass holders.
Open Schedule 2020
Open:
2 May - 3 November
Opening Hours: May to September 9:00-17:00, October 9:00-16:00
Prices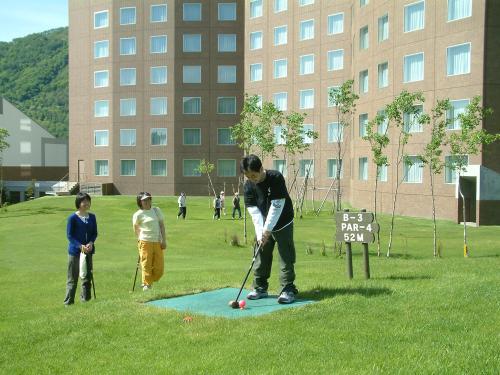 Club Rental
Club: JPY 500
Shoes: JPY 600 / per pair
Notes for Park Golf
Please check-in for park golf at the Golf Front Desk, The Westin Rusutsu Resort (formerly "Rusutsu Tower").
Child rate applies to ages 4-12, senior rate applies to ages 60 or above.
Please put on low-heeled shoes to play.
Only players are allowed to walk on the course.
Children must be accompanied by a parent or guardian.
Special regulations may apply for competitions or large group bookings.
Hot Springs are located in the hotel (facilities include sauna, Jacuzzi).
Note for Drone Operations
This notice applies to all parties interested in operating drones on Rusutsu Resort property/within and around the resort area.
Please note drone operations are NOT permitted in/around the Rusutsu Resort Area. Regarding press/media parties, pre-approved permission from the resort management is required for all drone operations.
Thank you for your understanding.
For reservation or inquiries