Book your lesson in advance
We recommend our guests to book a lesson in advance to avoid disappointment. Online booking will be available in October 2019
To book a lesson on the day, please visit ski school reception at the south wing first thing in the morning.
<Online Booking Will Be Available in October 2019>
Before your lesson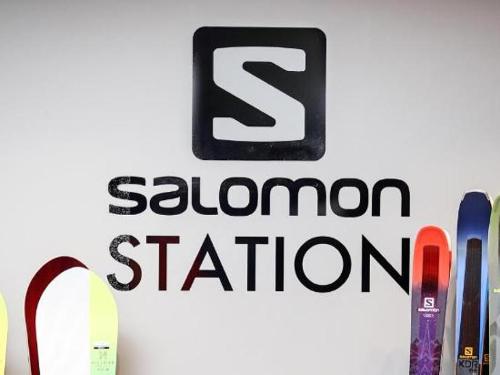 Pick up your rental gear and lift ticket before lesson start time
Getting ready in the morning to ski or snowboard can be a little tricky, here are a few tips to ensure a smooth start to your day.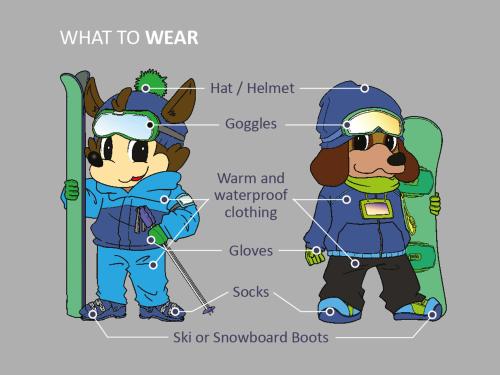 Stay warm and dry
Weather conditions can change rapidly on the mountain it is important to stay warm and dry. Below is what we recommend,
Hat / Helmet (Helmet are highly recommended for safety reasons and available at our rental station).

Goggles

Warm and waterproof clothing

Gloves

Ski socks and ski/snowboard boots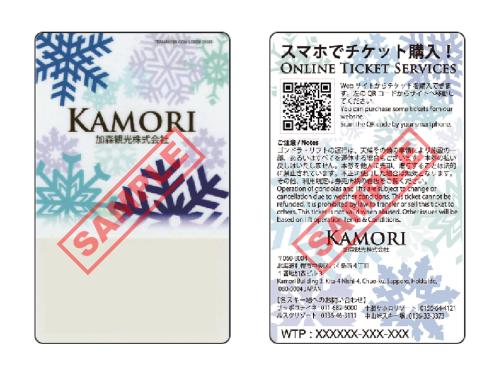 Rental Equipment & lift ticket
During busy periods, rental equipment fitting may take up to one hour. We recommend guest's pre-book their rental equipment in advance via our website.
For guests who are taking their first lesson or guests with

young

children

, we recommend allowing one hour for rental equipment fitting.



Rental stations are open daily from 08:15 am.

Lesson fees do not include lift ticket (except

for the first three hours of level 1/

first-timer

lesson).



Please download the detail hotel map for the location of ticket offices and rental stations.

You can also purchase a multiple day lift pass if you will be skiing for more than one day. Please note that you cannot purchase a lift

ticket at ski school reception.



For Westin guests, to travel from Westin Rusutsu hotel to South Wing, please take the monorail and allow an extra 20 mins travel time.

Walking with ski boots and heavy ski gear can be difficult. Please allow extra time.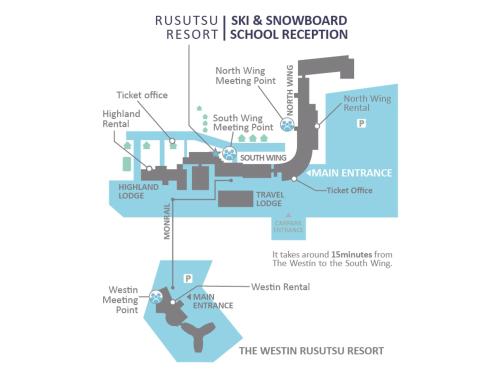 Lesson check-in and Meeting point
On your first morning please make sure you check-in at ski school reception before your lesson.
During busy periods we recommend checking-in 45 mins prior to your lesson start time. If you have booked a multiple day lesson, please feel free to change your meeting point on the following days. To do this please speak to the ski school reception team after your lesson, in person or via phone.
At lesson check-in, reception staff will inform you of the designated meeting point and the name of your instructor. Please
download the hotel map
for the different resort meeting points.
Meeting point:
South Meeting point

– Outside South Wing entrance



North Meeting point

– Outside North Wing entrance, outside Tea Lounge "Dolce"



Westin Meeting point

– Ski area exit of the Westin Rusutsu Hotel, opposition to the monorail station.
<Click here to Download Hotel Map>
Meeting Time
To maximise your lesson time, please meet your instructor at the designated meeting point 5-10 minutes prior to your lesson start time. We hope you enjoy your lesson!
Important information
Ski school reception open from 08:00 – 17:00

The rental

station is open at

8:15 am

daily. On your first morning please settle your rental



Lesson

will not be extended, rescheduled or refunded due to the late arrival of guests, for any reason.



All beginner lesson will take place on West Mountain.