Fireworks & Torchlight Parade on X'mas eve & New year's eve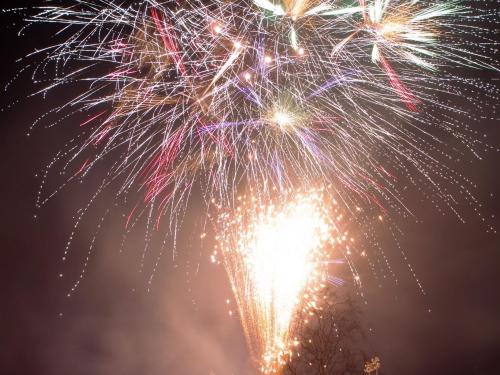 Celebrate Christmas in style! Join us here in Rusutsu for a fun filled evening of events on Christmas Eve. We have a variety of exciting events planned and you are even able to take part. The lower park of West Mt will host these evenings of festivity. Below is the nightly event schedule.
[Date] 24 December 2018 and 31 December 2018
[Time]
20:00~ Complimentary hot drinks
20:15~ Synchronised Skiing Demonstration by the Rusutsu ski instructors
20:20~ Torchlight Parade
20:30~ Fireworks Display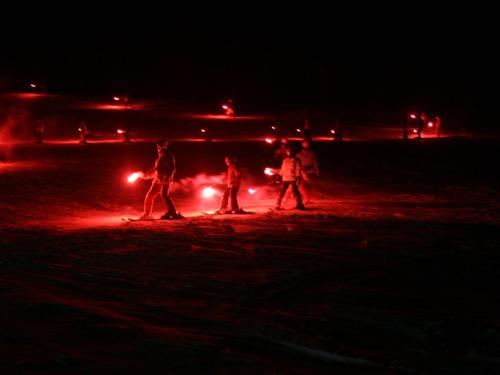 Torchlight Parade
If you would like to experience in the fun first-hand guests are welcome to join the torchlight Parade. Please submit an application to ski school reception by 18:00.
[Booking]
[Date] 24 December 2018. Registration end at 17:00 on the 24th
[Location] Ski school reception
[Price] JPY 550
[Inquiries] Rusutsu Resort Ski & Snowboard School
Tel: +81-(0)136-46-3280 / E-mail: school@rusutsu.co.jp
*Event available for experienced skier only

Year End Countdown party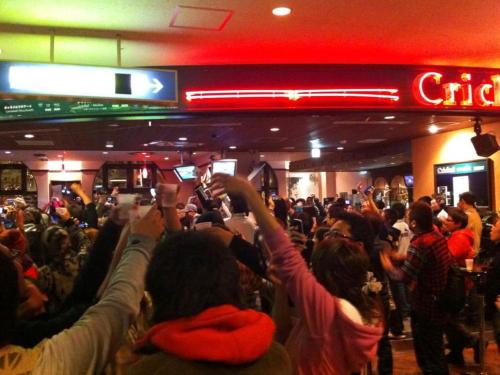 Join this New Year's Eve party and welcome 2019 with us at the cricket bar. Enjoy a fun Bingo games and countdown to 2019!
[Date] 31 December 2018
[Time] 23:00 (Bingo starts from 23:30)
[location] Cricket Bar, South Wing 1/F
[Price] JPY 500 (Bingo card and one drink)
New Year's Day Sunrise Snowmobile Tour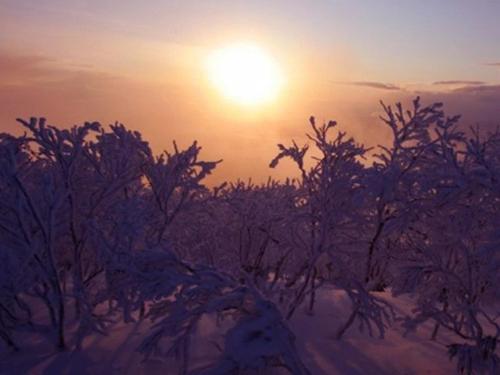 Take an early morning snowmobile ride up the mountain to see the sun rise. With instructor assistance provided even beginners can enjoy the experience.
[Period] 1 January 2019 (Reservation required)
[Duration] 90 min
[Meeting Time]
6:30 (South Wing)
6:40 (The Westin Rusutsu Resort)
[Location] Snow Activity Land to East Mt, return
[Price]
Adult (driver must be 16 or older)
Single-Seater JPY 12,000
Two-Seater JPY 8,150 (2 person total JPY 16,300)
[Language Support] Japanese, some English
Notes
Reservation required by 12:00 the day before.
The combined total weight on the two-seater snowmobile cannot exceed 150kg.
2 passengers cannot ride on a single seater snowmobile.
Participants under the influence of alcohol are prohibited from driving.
Drivers with no previous snowmobiling experience are required to take a short training course (30min) on the day before (equivalent to Touring Course).
Please enrol in the training course at the same time as making the tour reservation.
Programs may be delayed or cancelled due to weather or other conditions. In case of limited sunrise views, participants may decide whether or not to depart.
New Year Rice-Cake Making Ceremony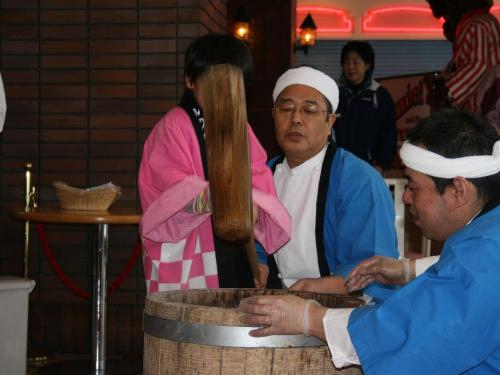 Join us for our traditional Japanese New Year's Celebration on the first day of the year. Complimentary rice cakes and Amazake (a traditional sweet drink) are served on the day!
[Date & Time] 1 January 2018 - 10:00
[Place] Daniel Street
[Price] Free entry

Meet our adorable Reindeer at the stardust Avenue!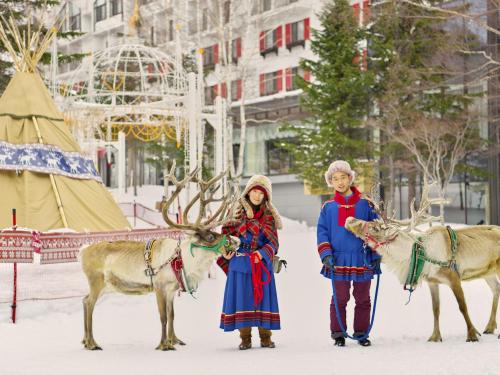 Two of Santa's reindeer have stopped off at Rusutsu to enjoy the powder snow. Guests can take special photographs and even experience a festive reindeer sleigh ride in front of the North & South Wing Hotel.
We accept cash only. Reindeer Park does not accept payment by credit card or room charge.
Accommodate up to two people at a time (Total weight up to 80kg)
Sled Operations will be suspended during reindeer breaks.
The break time depends on the physical condition of the reindeer, weather conditions etc. Please ask our staff for details.
We do not accept advance reservation with telephone/email etc. Application will only be made locally.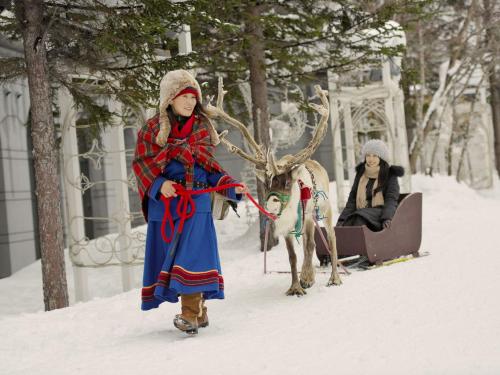 [Period] From late Dec to late Mar
(Closed on Tuesdays)
[Time] 10:30 - 16:00
[Location] Near 1F Entrance of North Wing
[Price]
Entrance & Memorial Photography
JPY500 (one party up to 4 people)
Reindeer Sled
JPY1,500 Over 6 years old
JPY1,000 Under 6 years old
Christmas lights and illuminations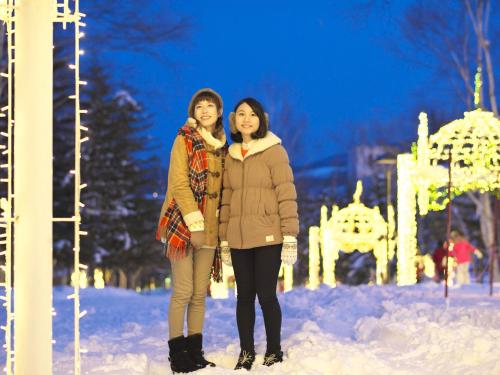 Experience the magic of Christmas as the beautiful Christmas lights set the stardust avenue with a seasonal sparkle.
Why not take a walk in the fresh snow and view the beautiful lights of Stardust Avenue. These winter illuminations provide a stunning location to enjoy the seasonal atmosphere and help to create fantastic pictures.
[Period] From 23 November 2018
Select shop of X'mas goods collected from all over the world
A festive holiday wouldn't be complete without our large selection of Christmas merchandise.
Visit "White Christmas "located at North Wing 1/F and discover our favourites Christmas decoration, cards, wreaths and a lot more. Find the perfect gifts for the whole family.
Located at North Wing 1/F
Treat yourself to some delicious Christmas themed meal & Dessert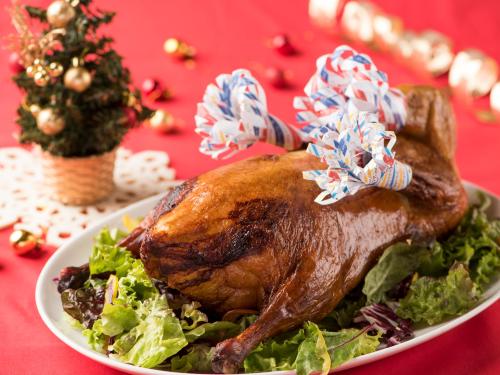 Try our delicious and festive Christmas desserts this winter at Rusutsu Resort. From festive chocolate cake to delicious fluffy roll cake with cream and red bean filling, available for a limited time only.
Our delicious and cute desserts are the prefect treat after a long day at the slope.
Christmas craft workshop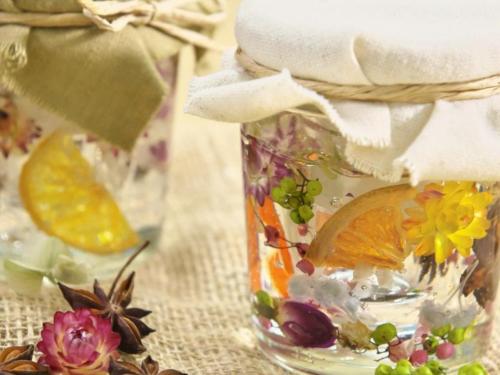 Put your hands to good work at our Christmas craft workshop.
If you like homemade decorations or homemade scent do not miss out our limited time Christmas workshop. Using dried flower and dried fruits, learn how to create beautiful botanical candle and unique gifts. Creating original Christmas memories with family and friends this winter at Rusutsu Resort.
Christmas Craft Workshop
[Duration] 90 minutes
[Times] 09:00 - 15:00 *Booking accepted pending availability.
[Price] JPY 4.860 (tax included)
[Reservation required] Activity desk