Fantastic Heli Ski opportunities now available!
Reservation is now acceptable at Rusutsu Resort, on behalf of Hokkaido Back Country Club.
From February 1st, 2018, guests will be able to experience the best possible Hokkaido powder conditions while staying at Rusutsu Resort. We are pleased to announce, we are shortly set to launch an exciting new partnership with Hokkaido Back County Club offering guests the opportunity to enjoy Heli-Skiing on the nearby Mt Shiribetsu.
Guest will be whisked by helicopter to the summit of the renowned Mt Shiribetsu (1107m) and instructed by experienced guides. Guest will be able to safely experience unrivalled backcountry terrain with easy, fun, hassle free uplift via a helicopter.
Mt Shiribetsu is located adjacent to Rusutsu Resort and renowned as one of Hokkaido's best backcountry destinations offering steep lines, fresh powder snow, open faces and amazing tree skiing.
Why not try this unique opportunity for the powder experience of a lifetime.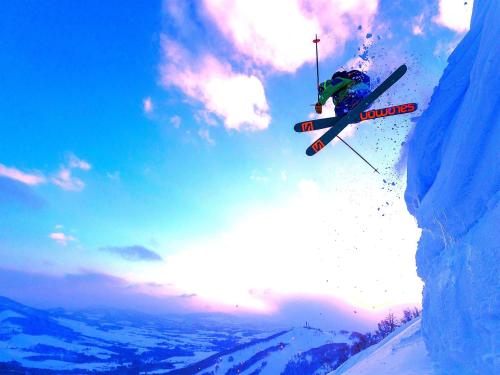 Daily Schedule
8:00 - Registration at Rusutsu Resort
then move to AMUSE SPORTS Rusutsu branch
for avalanche safety talk and helicopter briefing
9:00 - Heli-skiing
12:00 - Lunch Break
13:00 - Heli-skiing
16:00 - End of Day
Type of Tour
6 Runs · Big Mountain
JPY 160,000 per person
Customers can experience 6 Heli-skiing Runs on Mt Shiribetsu with a guide ratio of 4:1. An additional run will be priced at JPY 17,500, per person. Additionally, if the number of runs decreases due to bad weather conditions, JPY 17,500 will be refunded, per missed run.
In the event of bad weather where heli-skiing is not possible, it is also possible to participate in alternative backcountry tours.
Private Heli-ski
JPY 1,430,000 (2 hours total flight time)
The ultimate 1 day Heli-ski package which allow for a private group to freely enjoy Mt Shiribetsu with guides. This is ideal for larger groups.
*Included in the price:
Heli-skiing
Rental Avalanche Safety Equipment
Lunch
Reservation and Inquiries
Terms and Conditions
HOKKAIDO BACKCOUNTRY CLUB (hereafter HBC) does not offer refunds on snowcat tours for weather related problems (extreme avalanche condition, torrential rain etc.)
If HBC is asked to find a replacement for the cancelling guest, payments will be refunded once the seat is filled with another guest less an administration fee of JPY 25,000
You may sell your seat to another guest, but in order for HBC not to charge you JPY 25,000 as an administration fee, you must collect the money directly from the replacement guest. HBC will not be involved in the transaction.
Cancellation between 60 and 30 days before the trip will result in a 50% cancellation fee. Cancellation within 30 days of the trip for any reason, including injury, will result in a 100% cancellation fee.
Heli bookings cancelled on our part for reasons of weather or safety qualify for a backup lift assisted tour at Rusutsu for JPY 35,000. The remainder will be refunded. If you decide not to join this program, you will be refunded 85% of the total.
Runs not skied in our helicopter program qualify for a refund of JPY 17,500 per run for 6-run guests.
Additional heli runs will be billed at JPY 17,500 per run for 6-run guests.
Heli guests not flying or delayed due to weather will be offered a backcountry / resort / or slackcountry tour with the prospect of flying if the weather changes. Guests can also re-book for the following days if there is availability.
Minimum group numbers apply for all tours. In the case of low numbers, we will attempt to reschedule.
Included in all ski packages is the use of backpack, avalanche transceiver, probe, and shovel, as well as avalanche and helicopter safety briefings.
A set menu lunch and apres ski appetizers are included in all heli programs.
We recommend you purchase your own trip cancellation insurance in case you need to cancel for injury or any other unforeseen circumstances.
Notes on Payment
You will receive an invoice email with payment instructions via international bank transfer or PayPal credit card. You do not need a PayPal membership to use this credit card service.
Due to service fees, our preferred method for larger transactions is international bank transfer. All bank transfer details are available on your electronic invoice.
If you choose to complete a bank transfer, please ignore any service charge listed on your invoice and only transfer the amount owing on the balance line of your invoice.
All customers are required to read a release of liability waiver and medical information form before departing. Failure to do so will result in cancellation of the tour without refund.
All participants under the age of 19 must also have a parent or legal guardian sign their release of liability. All minors must be at least 13 years of age and accompanied by a guardian or parent while on the tour.
All tour pricing listed on this website is based on a minimum group size of 3 people, unless otherwise stated. If your group is smaller or larger than 3, please ask about availability.
HBC reserves the right to cancel any tour at any time, typically due to inclement weather or unsafe backcountry travel conditions.
We ask members to be honest about their skill levels. If you have booked and paid for a trip with HBC, but your skills are insufficient for the trip you have booked, we will try to accommodate you with another program if possible but we will not issue refunds.