Won the World Ski Awards 2017!
Rusutsu Resort triumphs at the World Ski Awards 2017.
Rusutsu Resort won the World ski award for Japan's Best Ski Resort 2017 with The Westin Rusutsu Resort winning as Japan's Best Ski Hotel 2017 on Saturday 18th, November 2017, in Kitzbühel, Austria.
After a receiving the official nominations, a voting period took place, from June 2 –September 22, 2017. Hundreds and thousands of people voted for nominees anonymously online, from around the world. Succeeding in two distinct categories marks a tremendous achievement for Rusutsu Resort after fending off strong competition from regions such as Niseko and Hakuba.
At the prestigious award ceremony in Kitzbuhl, Austria. Kimihito Kamori, CEO of Kamori Kanko and Atsushi Miyazaki, general manager of The Westin Rusutsu Resort accepted the awards on behalf of Rusutsu Resort.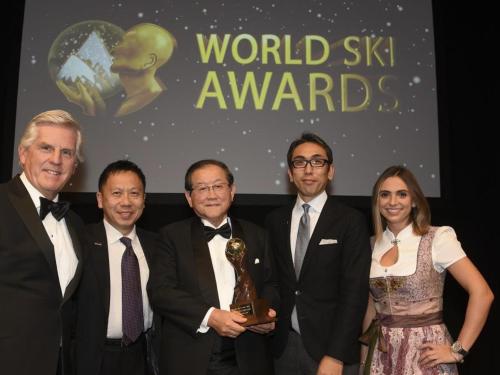 "It is a great honor for Rusutsu Resort to receive international recognition, as Japan's Best Ski Resort 2017. We are proud to receive appreciation for Rusutsu Resort's three unique mountains, facilities, snow grooming and dedicated staff. In the future, we hope to continue to development of winter sports in Hokkaido and Japan."
"We are extremely honored to receive the award for Japan's Best Ski Hotel 2017," said Atsushi Miyazaki, General Manager, The Westin Rusutsu Resort. "We would like to thank everyone who voted for us - the World Ski Awards are a definitive benchmark of excellence in ski tourism, and the voters represent the most respected ski professionals and most discerning consumers in the ski travel industry, so this is a wonderful accolade to our commitment to providing the very best experience for all our guests."
We are delighted to win the prestigious accolade from The World Ski Awards and hope to continue to strive towards further achievements in the winter sports and tourism industries.
World Ski Award Web Site
What is "World Ski Awards"?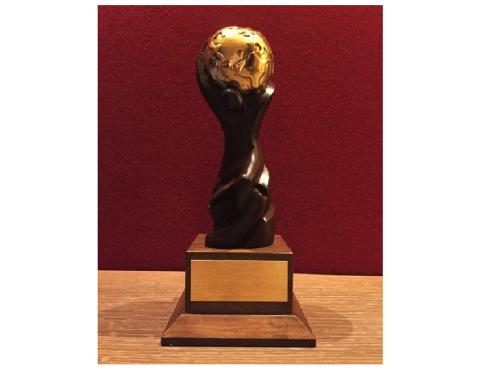 The World Ski Awards is one of the most prestigious awards in the ski tourism industry and often referred to as the 'Oscars' of the travel industry. Established in 2013, this year marks the 5th time the respected awards have been held. Covering a wide variety of categories The World Ski awards see the finest ski resorts, hotels, and ski industry companies from, around the globe competing for the distinguished awards. With nominations announced in June after a brief voting period the winners were recently confirmed in November, at a lavish awards ceremony.
World Ski Awards 2017, Celebration Package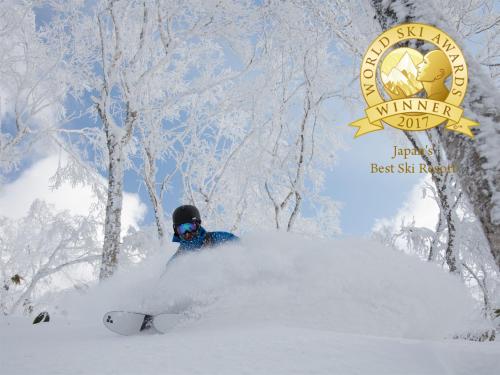 World Ski Awards 2017, Celebration Package
Rusutsu Resort has just been voted Japan's Best Ski Resort 2017 by the World Ski Awards!
To celebrate this prestigious award we have created this special package.
Price Includes (per night/per person):
Accommodation of your choice
Breakfast FOR ADULT at your choice of restaurants (Breakfast coupon can be redeemed for lunch with a value of JPY1,080 per night)
1 day lift pass FOR ADULT
Medical Support Service
Service charges and taxes
and also...
Rusutsu Resort lunch voucher with a value of JPY1,000. *Valid at any of fast food shops and cafeterias on mountain.
Rusutsu Resort voucher with a cash value of JPY2,000. *Valid for payment at most shops and restaurants in Rusutsu Resort (but some exceptions).
Sweets coupon for an original cream puff at a fast food shop "HANA MORI KUMA RUSUTSU"
For more details and booking: