Rusutsu Trail
Summer hiking trails
Take in the breathtaking views and enjoy
the fresh mountain air.
Explore "ski trail" on West Mt in the summertime. Check out the SALOMON hiking trail signs to help you navigate in the West Mt forest.
West Mt hiking trail guide
1. View Route (mountain walk course) 1.9km
The view route has a lookout and scenic route.
With a slight incline, this hike is suitable for anyone who enjoys walking.
2. Forest Trail (Trekking course) 1.5km
Guests could either hike up to the West mountain summit or take a ride up with West gondola. T
he forest trail is a single-track from the foot of the mountain to the summit.
3. Refreshing jogging Circuit (jogging track) 1.5km
Ideal for jogging or walking in a paved course that links to the front of the hotel.
*Hike at your own risk. Hikers accept full responsibility for their own safety and well being.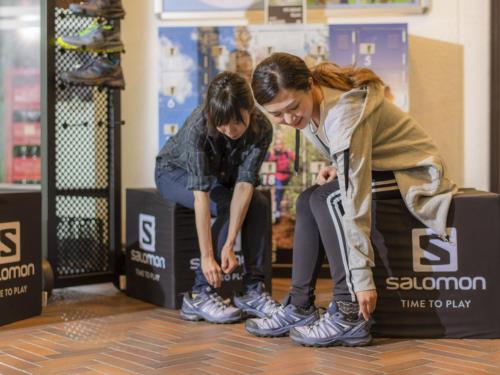 Salomon rental service
Try out the latest Salomon hiking boots and backpack at our Salomon rental station. In the future, there will be events and workshops by Salomon Pro.
[Season] June –24 October 2020
[Price] *Price includes tax.
Contact and reserved at Rusutsu Activity desk.
Rusutsu Resort Activity Desk
Phone: +81-136-46-3332 (8:00 am - 5:00 pm)