Diamond Mt. Yotel
In springtime during a selected dates a stunning natural phenomenon can be observed in Hokkaido as the setting sun aligns perfectly with the summit of the majestic Mt. Yotei. As the setting sun meets the Mt. Yotei summit, it appears as Mt. Yotei is topped with a glistening diamond as sunlight shines brightly in all directions. Due to this spectacular display, the natural phenomenon as ben named Diamond Mt. Yotei.
This rare phenomenon only occurs a few times per year in the springtime and can be viewed from a selected number of spots located to the east of Mt. Yotei, under optimum weather conditions.
The lucky people who manage to see this natural spectacle are treated to an extraordinary display which creates an extremely rare view and a remarkable photo opportunity.
Recommended Season
The exact date can for Diamond Mt Yotei can be difficult to exactly predict, however this phenomenon typically occurs between late-May and early-June. The stunning diamond Mt Yotei typically occurs around 18:00, just prior to the sunset.
[Dates] around May 20 - June 5
[Time] around 6:00 pm - 6:30 pm, just before sunset
Recommended local viewing locations
While this phenomenon cannot be seen directly from Rusutsu Resort, there are a number of recommended local viewing spots conveniently located nearby.
Rusutsu Resort Golf 72 Riverwood Club House
Enjoy this view from comfortable club house after a round of golf at either the Rusutsu Resort River or Wood course.
Kimobetsu (next to the river)
A local village 10 minutes' drive from Rusutsu Resort.
Kyogoku
A local village located 20 minutes' drive from Rusutsu Resort
Yotei Gondola & Observation Deck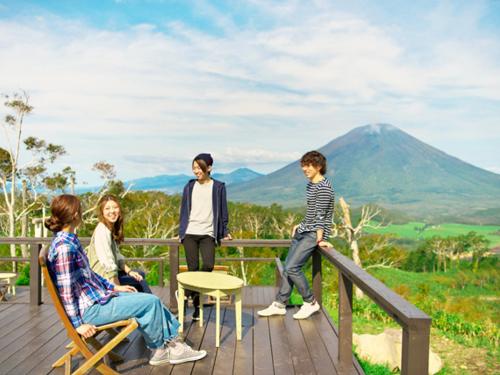 Take a gondola ride to the summit of West Mountain, the view from the observation deck is spectacular. When the weather is fine you can see Mt. Yotei, Lake Toya and even the Pacific Ocean.
Click here for more information